Short Form Financial Copywriting Program
How you can get hired by one of the biggest financial publishers in the world?
YES! I?m Ready to Get My First Client In The Ultra-Lucrative Financial Niche And Start Earning $100k+ A Year As A Freelance Financial Copywriter!
I?m totally onboard with Jake?s ?easy? client getting strategy that involves approaching the top financial publishers with new ideas and pre-written short form copy. It makes complete sense to me why this strategy works so well.
I understand that earning a 6-figure income as a financial writer IS going to require hard work, but I can see a clear path to success by starting with short form copy formats? like PPC, Space Ads, Lift Letters, and Advertorials.
When I sign up today, I?ll get instant access to?
FREE COURSE: Becoming a 6-Figure Freelance Copywriter: In this module, I?ll learn all about the financial niche, who the major publishers are, what types of products and services they sell, and how to find my first client.
Module #1: The Ad Clinic: In this module, I?ll learn the nuts and bolts behind writing killer ads that get clicks! PPC and Space Ads are foundational copy formats that every publisher will want me to write.
Module #2: Lift Letters: In this module, I?ll learn all about writing Lift Letters. Publishers need 3-5 new emails per week and are ALWAYS looking for new, creative ideas they can send to their list.
Module #3: Advertorials: In this module, I?ll learn the art and science behind writing Advertorials. They are KEY to converting cold traffic into new subscribers? and knowing how to write this will make it easy for me to get new clients.
Guest Interviews with Top Financial Copywriters: I?ll also get access to the private interviews Jake conducted with three of the top financial copywriters working today??Million Dollar? Mike Morgan, Donnie ?The Most Interesting Copywriter in Chicago? Bryant, and Patrick Bove.
To get started, all I need to do is fill out the secure order form by clicking the ?enrol in course? button. Once I do, I?ll receive an email with login instructions to access the course.
Your Instructor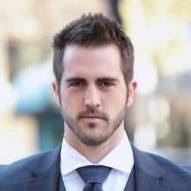 Jake is co-founder and CEO of HoffbergDRMC. During his career in direct sales, Jake made more than 80,000 sales calls, delivered more than 3,000 sales demos, signed up 1,700 new accounts, and generated millions of dollars in sales. But he hated how ineffective in inefficient these old school direct sales methods were in generating new business.
So he decided to teach himself direct response marketing: the art and science of selling products and services from a distance.
As a direct response copywriter, he has helped financial publishers like Dent Research and Mauldin Economics generate more than 20,000 new subscribers and
Only logged in customers who have purchased this product may leave a review.